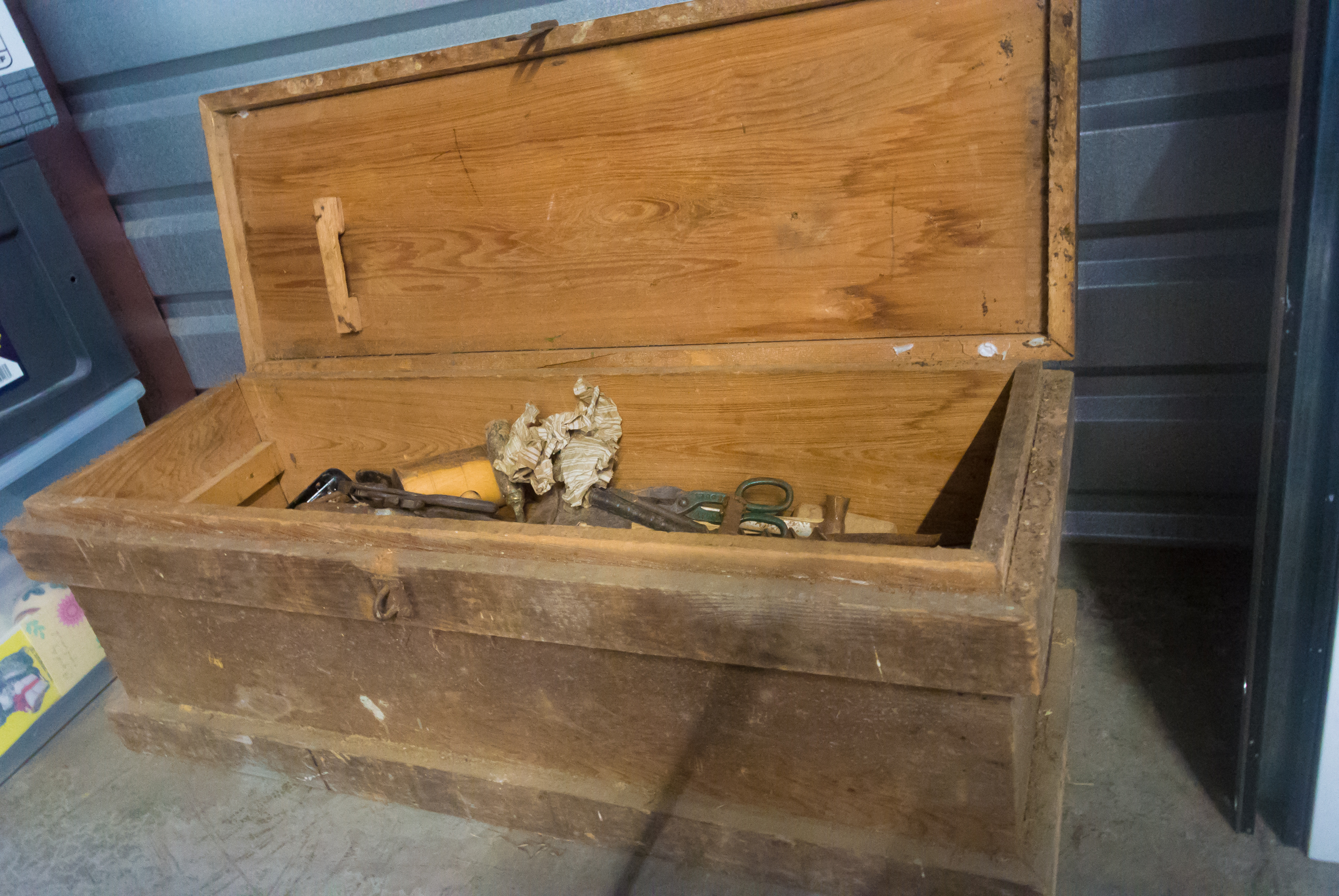 An item in my bucket list is: Clean up your,stuff – don't leave that to those who come after you! That leads to a story. In 1911 my grandfather married my grandmother and moved to a small farm in Clarksburg, Mass. They kept two or three cows, some chickens, and a vegetable garden. The farm supplemented my grandfather's income from work in a cotton mill. They lived there until my grandfather died in 1957 leaving me the tool box and the 125 basic farm hand tools.  Following my bucket list, I have decided that its time to sell the box on eBay.
Their age is uncertain. Presumably the collection was started in 1911 and new items were added and some were replaced as they wore out. The tool box, which I think is made of oak, is incredibly strong and well constructed. It has a heavy latch and carrying handles and a large tray for smaller items.The dimensions are: outside 40″ wide, 15″ deep, 14″ high; inside: 36″ wide, 11″deep, 12″ high. The contents are exactly the same as they were when he died. The photos show the tool box and its contents. The contents include a large ax head; a hatchet; a mallet; hammers and saws many descriptions; a vice, which I remember fastened to his workbench; trowels; wire cutters; planes; a level, numerous clamps, bits, files, and wedges; scissors; various measuring tools; and the list goes on. To me, this collection has historic value. It is well documented and represents the basic set of hand tools needed to maintain a farm in the first half of the twentieth century.
I am not a collector, but I believe some of the individual items could be valuable collectors items. The tool box alone is likely to be able to survive another 100 years of hard usage. The entire set weighs over 200 pounds so I have listed it for local pickup, but would be willing to work with the
buyer on shipping arrangements.
Here are high resolution images of the toolbox and the 125 items in the collection.