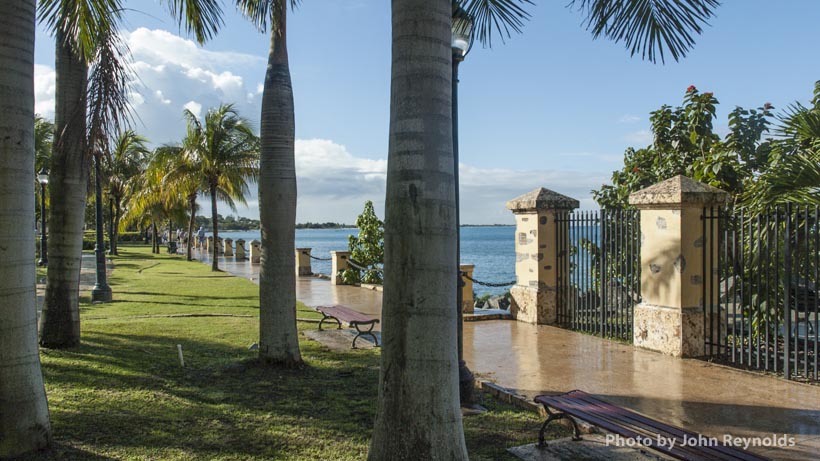 January 2010: Eastern Caribbean Cruise
Presenting PixTraveler's 2010 Eastern Caribbean Cruise. It began in Baltimore, MD., stopped at St. Thomas, St. Croix, St. Kitts, Antigua, St. Maarten, and returned to Baltimore. We traveled aboard the Celebrity Mercury. Altogether it was a wonderful experience. We relaxed, saw and learned interesting new things, were entertained, had great meals, and met great new people.
Our Itinerary
This section describes the itinerary of our 2010 Eastern Caribbean Cruise. For me, the best two days are Day 6, which takes you on a walking tour of Frederiksted, St. Croix, and Day 8, which includes pictures of beautiful coastline in Antigua. These are good places to start.
At Sea Monday, January 11 through Thursday January 14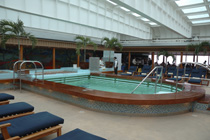 We embarked in the Mercury on Monday January 11 at the new cruise terminal in Baltimore. After we drove into the terminal parking lot, we transferred our luggage from our car directly to baggage handlers who tagged it with our cabin number and ultimately delivered it to our cabin. We had arrived early and moved very quickly through the rest of the embarkation procedure. We had a very nice lunch in the informal dining area where we waited for our cabin to be ready. Everyone we talked to had a similar positive experience.
The track starts at about 9:00 PM the first night at sea. This is about the time we had finished unpacking and started the GPS unit that recorded our track. The track continues down the Chesapeake bay, through the North Atlantic and into the Caribbean as we approach our first port of call.
Click here to come along.
Day 5 - Friday January 15, St. Thomas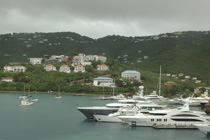 This tour starts as we approach St. Thomas. A warm but steady rain was falling. This did not stop many of the intrepid shoppers aboard our ship from visiting the shops on shore. We chose to say on the ship except for a quick shore visit between showers. Enjoy the pictures of the beautiful harbor and yachts anchored there.
Click here to come along.
Day 6 – Saturday January 16, St. Croix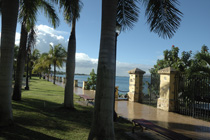 We approached Frederiksted, St. Croix at dawn to the sight of spectacular morning sky. About 9:00 AM we began a walk along the shore. The park next to the ocean is just beautiful. Enjoy our pictures of this walk. About 9:40 AM we took a picture postcard photo of the Mercury with the clear sky behind and beautiful blue water in front. We walked back toward the pier where we saw our follow passengers, believe it or not, shopping at vendor stands. About 10:11 AM we visited the fort, which offers a self guided tour for a nominal fee.
Click here to come along.
Day 7 – Sunday January 17, Basseterre, St. Kitts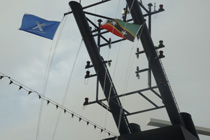 Our track starts at 6:48 AM as we approach, Basseterre, St. Kitts. Our visit to St. Kitts included an interesting walking tour of Basseterre. We took a group of pictures on board starting at 5:23 PM. The wind was even stronger then. Enjoy the picture of the flags straining to get away.
Click here to come along.
Day 8 – Monday January 18, Saint Johns, Antigua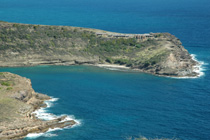 Our track for this day starts at 6:20 AM as we approach Saint Johns, Antigua. We started with a short walk through town. Then we took the "Best of Antigua" excursion which visits many points of interest on the island. At about 1:06 PM we approached the beautiful shore line on the south side of the island. At about 1:23 PM we were saw the most spectacular scenery of the entire trip. With the bright, clear weather, we were able to get some very good photographs. At about 2:14 we arrived at Nelson's Dockyard. Lord Nelson used this area to repair and refit British warships. We found this stop the highlight of the excursion. We listened to an interesting talk from local guides and got to partake of the very high octane rum punch provided as part of the excursion. This is certainly a must see attraction on the island.
Click here to come along.
Day 9 – Tuesday January 19, Philipsburg, St. Maarten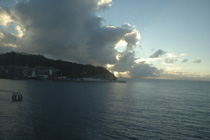 This tour includes the approach to Philipsburg, St. Maarten. As we approached the island we were joined by the Disney Magic which docked next to us. Our excursion for the day was a sail and snorkel adventure on the sailboat, "Captain Morgan". We sailed along the south shore of the island past the airport and Simpson Bay to Long Beach where we anchored for snorkeling and a barbecue lunch. We departed about 5:30 PM heading back to Baltimore.
Click here to come along.
At Sea to Baltimore - Wednesday January 20 through Saturday January 23
The remainder of the cruise was a relaxing trip at sea arriving at Baltimore on Saturday January 23.